Of Mice and Men
John Steinbeck's Of Mice and Men is almost as old as one of the stars of its latest tour, and just as politically astute, writes Lizz Brain. Actor Dudley Sutton was four years old in 1937, when the novella was published, yet he's now touring the country in a revival of the classic tale.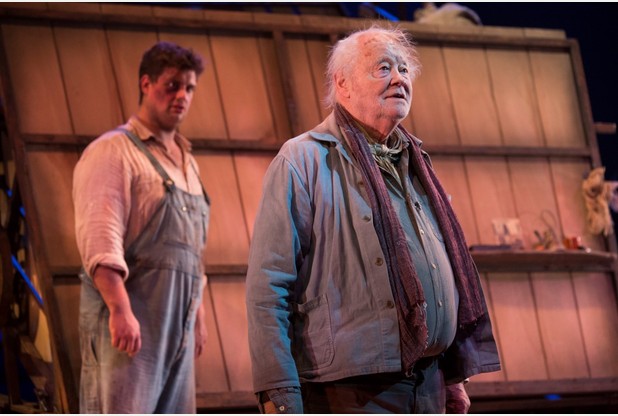 The play tells the story of two migrant ranch workers, moving though California searching for work during the Great Depression. Loneliness, jealousy, abuse, bullying and accusations of sexual assault all run through the story yet, despite their universal relevance, Dudley says there are also more corporate and political themes.
"It's a shame that we don't encourage kids to look at art in a political way any more," he says.
"This play is on the national curriculum and we are packed out with young people coming to see it, yet they are just taught to explore the relationships and feelings."
"This is also a story about zero-hours contracts, being suppressed by the big corporations, about people struggling to make a living. I've always read work from a political point of view but the kids just don't seem to relate to work on that level any more."
The 83-year-old, best loved for his work as Tinker in antiques comedy drama Lovejoy, clearly hasn't lost his passion for politics.
"There was a suggestion that this piece would come out of the curriculum, which I think would be foolish, but then we also have people in Parliament suggesting that it wouldn't be necessary for students studying drama to ever witness a live production," he says.
"That's what happens when you have people in Parliament who have no experience of real life and no understanding of what happens to normal people. They're not interested in anything except the stock exchange results and their offshore accounts, their loyalties lie with the people who manage their money."
"But I have faith that it will change. We are in terrible trouble as a country but it always changes eventually."
So how does he cope with the rigours of touring as a stage veteran?

"There's always a reason not to employ someone of my age: too fat, too tall, too old. I get sent a script and it's for a man sat dribbling in front of the TV, wearing a cardigan and falling asleep. It's terrible to see that this is how young writers see us now. So it's wonderful to be in a piece of work like this, even if I'm 30 years older than the next youngest man, and 60 years older than the only woman in the company."
"When I first started I was afraid I wouldn't be able to keep up, I wasn't very agile, but the adrenaline and exercise of the play keep you going."
"The company play a kind of version of volleyball for warm-ups. I used to watch, then I umpired, now I join in."

"I'm very lucky. John Steinbeck is an incredible writer and you can really understand something when you're in it, more than if you studied it academically until you're blue in the face."
"I don't do this for some notion of fame, I do it to try to not lose touch with real life and real people."
"I was once playing a lifer and I went to prison so I could spend time with one. I didn't want him to watch and think 'what's he playing at? It's not like that in here'. I wanted to honour him with a truthful performance. Everything is an experience. Yes, I wish I hadn't been an alcoholic and addicted to drugs in the 1960s and 70s, but there's no point regretting it. It's given me a bank of experience to draw upon. I know about addiction, know about death. Nothing is wasted."
Of Mice and Men, is on at Curve Theatre, Leicester until 23 May – 28 May, 2016. Call 0116 242 3595 or visit curveonline.co.uk