Pixie Lott, Breakfast at Tiffany's
Posted on
14th February 2016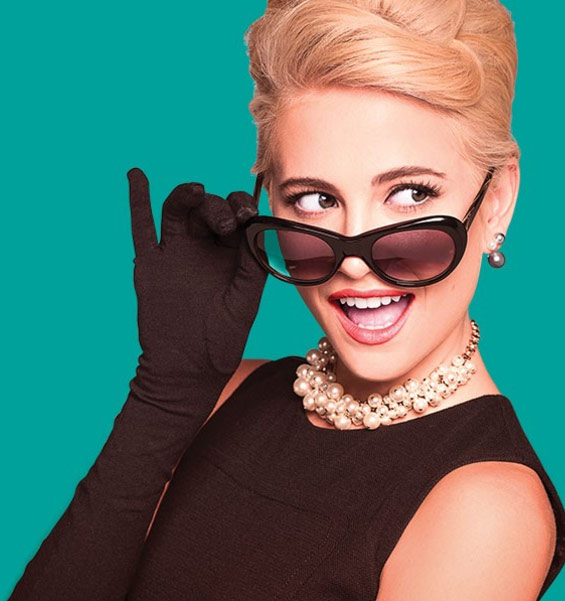 A slim blonde wearing dark sunglasses and an impatient expression sits at a bar, fingers tapping against her thigh. Despite her tight black jeans and slim-fitting jacket, Pixie Lott is looking decidedly un-popstar, writes Lizz Brain. There's only a hint of make-up, her hair is scraped back and the glimmer of a frown crosses her forehead as she concentrates both on her lines and her American accent.
That's because for now, she's not Pixie the songwriting, award-winning, chart-topping performer. For the past few weeks she's returned to the skills she began to hone as a child at the renowned Italia Conti stage school. For now, she can enjoy the relative comfort of the Curve rehearsal room, with its vast ceilings, taped out floor markings, makeshift pieces of set and speakers throwing out overloud sound effects.
But that safety net is about to be removed. There is less than one short week until audiences begin to see the sellout world premiere of Breakfast At Tiffany's – a new "play with music", followed by 13 weeks of tour before the West End opening at the end of June.
This new version is based on Truman Capote's original novella rather than the famed Hollywood screen version, which gave Audrey Hepburn her defining role and turned into an icon as Holly Golightly.
And despite being a fan of the film, Pixie admits she's avoided it since agreeing to take on the role. "I just didn't want to even take the chance that I would copy, and I didn't want to compete," she says after rehearsals.
"This version is gutsier and less glossy than the Hollywood, and probably more romantic for it. It's set in the 40s rather than the 60s, but it's so far ahead of its time. It's been amazing being able to dissect it and see just how clever the writing is."
The film ended happily. Does the play? (Without giving away any spoilers): "It's different to the film. Holly thinks she knows what she wants and will spend her life trying to get it, but I don't think she'll ever really find out what it is, or find it and settle down and just be happy.
"But I've loved being able to step inside a character and develop it and add layers, and be someone else. I'm completely comfortable being myself on stage – when I'm doing my music and performing it is me up there, it's not an act, music and singing are my number one and I will do them forever. But dance and drama were there for me growing up and I always said I wanted to focus more on my acting, but I've not been able to do that for the last ten years. I really wanted to get into a character again, study it, play that character every night, refine it, develop it, and to be on stage but not be myself. It's already been amazing."
And she admits she's a big fan of musical theatre, with a yearning to play Roxie in Chicago (or Mickey in Blood Brothers, if she were male).
Pixie performed her first gig in her early teens, and her largest audience was to over half a million people at a street party in Madrid. "I like intimate gigs where the acoustics are great, but to be honest, bigger is better, where it's so big and there's so many people you can't see the faces on the front row and you just go into your own world. So again, doing this will be completely different," she smiles.
"I do get to sing though, I do Moon River and a little hillbilly ballad which has been written for the play, but it's Holly singing to herself and daydreaming. It's so different to performing in the way I know."
But does she see herself in Holly? "Oh in some ways yes," she laughs. "We're both really short-sighted, she loses everything and is really forgetful, which is very like me. Oh and she lives at Flat 2, and so do I which is a weird coincidence. "Holly has so many different sides to her personality, she is strong and showy and flamboyant but she's also vulnerable, and calculating and carefree and doesn't want to be pinned down. She wants it all but she wants it on her own terms."
Pixie is no shy retiring type either, a clearly media-savvy, confident woman who knows her profession and the pros and cons it brings. She admits she's managed to retain a certain anonymity whilst rehearsing in Leicester, although the rehearsal schedule hasn't allowed for much free time.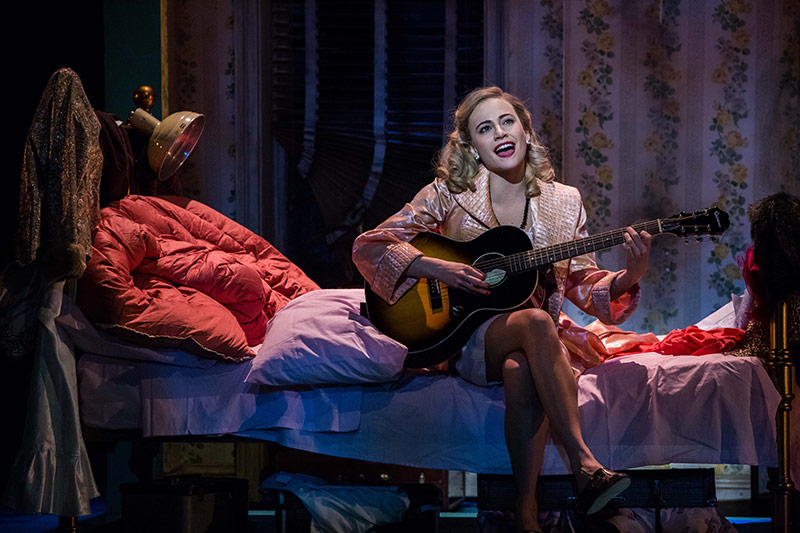 "I managed to get out to Rutland which is absolutely beautiful, and I've popped into Highcross a couple of times and generally get recognised at the till of a store. And I got given a free smoothie the other day!"
She's already accomplished so much in her 25 years – from her own fashion lines to her music career, from her impending West End debut to her success on Strictly Come Dancing last year. "Strictly was amazing, and I got really, really nervous, because it didn't matter how well you rehearsed and knew the steps, it only took a heel to catch in a dress or a slight overbalance and it would all go wrong, live in front of millions. Everything was all geared up towards one dance on a Saturday night. This is every night, but the performer in me will always love that adrenaline rush, so I don't really mind the nerves."
She also finds time for charity work and is Patron of CRY – which works to promote awareness of Cardiac Risk in the Young. "We want better screening for young people," she says. "So many apparently healthy kids are off playing sport and doing what they love and then their heart stops suddenly, which might have been prevented if their heart condition hadn't gone undetected."
And just as we start to get into her love of fashion: "I do love sparkles and cat ears and girly things," our time is up. With a handshake and a smile she's up, off and gone to pursue her dreams. Not unlike Holly at all then.
Breakfast at Tiffanys, is on at Curve Theatre, Leicester from March 3-12, 2016. It's also at Birmingham Alexandra Theatre from April 18-23, 2016 and Nottingham Theatre Royal from May 9-14, 2016. Call 0116 242 3595 or visit curveonline.co.uk
See the original article from the Leicester Mercury, February 27, 2016 below.