Rufus Hound – One Man, Two Guvnors
Posted on
20th September 2016
Smash hit award-winning comedy is on its way to Leicester – with a tiptop comedian in the lead role. Lizz Brain catches up with Rufus Hound. James Corden hit the headlines when he won a prestigious Tony Award for his performance but the play also picked up much acclaim here in theUK.
And now One Man, Two Guvnors is heading out on tour, starting here in Leicester next month, with comedian Rufus Hound at the helm. And he admits he's looking forward to the unique challenge.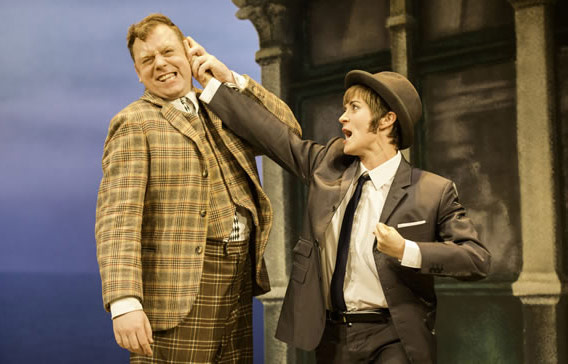 "There's no downside really," he says, "it's not like the play has anything to prove – it's been a hit since it started. We know the show is good. I either match that level and do it justice or people walk away saying I wasn't as good as James or Owain (Arthur, currently playing the role in the West End). The challenge is to try to make it better."
Rufus believes his experience as a compere will aid his experience. "Compering is about getting the audience involved and engaging them, making them feel part of a shared experience. It's a hard job and it's a massive part of the play. I will enjoy the ad lib sections too but I can't let my massive ego get in the way."
The play is an hilarious farce centred around the hapless Francis Henshall, who suddenly finds himself working for two bosses in 1960s Brighton. Driven by his enormous appetite for food, and later, a certain female, he races around in chaos trying to keep both bosses happy yet unaware of each other!
And for an actor, it demands plenty of physicality, comic brilliance and the ability to make an audience warm to them. With a background in acting – he discovered a love for performing arts at school but found himself discouraged by one particular teacher at 6th form college.
"I started to get into the pub circuit and that's when theatre really disappeared for me. But stand up was something where you didn't have to wait for someone to write you a part. Through that came TV, I did a kids' show playing myself, then a movie, then a fringe play. Then came to chance to audition for this, which is massive. I still keep expecting someone to say "oh it's YOU… we thought they meant Russell Howard!
"But this is immense. I'm going to be living it, breathing it, non-stop from the start of rehearsals to the end of the run. It's immensely physical and if you go into something like this thinking you can busk it, well you'll be in trouble. I'm very open to how hard I'm going to have to work; when something has won this many awards you can't afford to be the person who's playing the lead if it goes out and people think it's rubbish. So I've got to be pin sharp. But that's part of the pleasure. I can't feel satisfied unless I've run the risk of failure and beaten it. My biggest fear is that all my instincts are wrong."
So given the awards list and host of 5-star reviews, will he be comparing them when the tour reviews are published? "I do read reviews and I try not to – it makes me understand the relationship addicts have with heroin. There is no upside. We live in a weird world of social media where anyone with an opinion can voice it. If you go on stage with the weight of the world on your shoulders because you think everyone hates the show then you're already in that place, but no matter how professional or adult you think you are, going on stage equates to going up to strangers and saying "why don't you love me?" When you get a great review it's lovely but when it's bad it makes you want to kill the writer. But hey, it's not like the play has anything to prove. Right?"
Rufus Hound stars in One Man Two Guvnors at Curve Theatre, Leicester from 25 October – 3 November 2016. Call 0116 242 3595 or visit curveonline.co.uk
See the original article from the Leicester Mercury, September 20, 2016 below.