Craig Revel Horwood
Behind the cutting criticism of his TV persona is a talented director and perfectionist choreographer. Lizz Brain talks talent with Craig Revel Horwood. As a judge on BBC's Strictly Come Dancing he's the one whose opinion the contestants most dread, whilst simultaneously craving his approval.
He takes no prisoners, with his bitchy barbs provoking delicious anticipation before they appear, as well as occasional boos from the studio audience. Did he set out to be the most critical one or is it just for TV?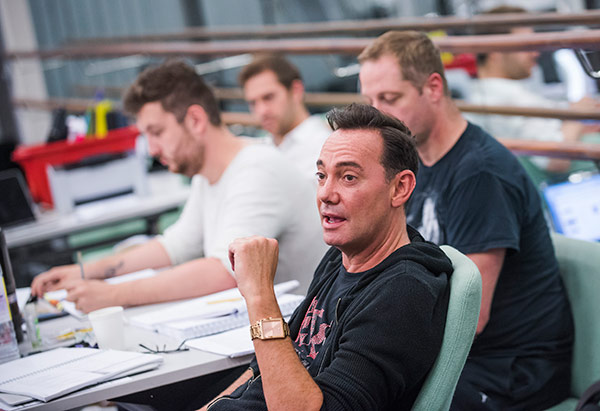 "Not at all, I just judge it like I see it. I would never let a dancer in one of my shows get away with sloppy arms or a hand out of line, so I don't see why I should tolerate it from people I didn't even cast," says Craig Revel Horwood.
"It's my job to cast people who are amazing and to set them doing moves which make them look amazing. I don't get a say as to who will be in Strictly, but I treat them the same as I would anyone in my cast. It's my profession and I love it, I was born to do it and hopefully will continue to do it until I die."
Right now, he's the man in charge of a new UK tour of Sister Act, both directing and choreographing the stage musical based on the hit screen version starring Whoopi Goldberg.
The show stars former X Factor winner Alexandra Burke and opens at Curve next month before a 12-month tour. Also in the cast is Jon Robyns, returning to Curve after playing Emmett in Legally Blonde, and Rosemary Ashe, who played Grandma in The Secret Diary of Adrian Mole the Musical.
But back to Sister Act – and this is no ordinary revival of a hit show. As with some of his previous productions including Copacabana, Sunset Boulevard and Fiddler on the Roof, Craig has cast actor-musicians who will be the show's orchestra as well as its performing cast.
"It's my profession and I love it, I was born to do it and hopefully will continue to do it until I die." - Craig Revel Horwood
"They have to be a quadruple threat – actors, singers, dancers and musicians. And if they can't play an instrument they're on percussion. It's great fun having nuns playing the saxophone and trumpet, and it's a challenge for me to ensure I can escape if I find it's pushing me into a corner. But it does make the show brilliant.
"And of course it does make a difference to the way I choreograph when they're holding instruments, but you'd be surprised what I can get away with!
"Sometimes the nuns are only doing 'armography' because the habits cover their legs, so we get a lot of step-touch, but I know that my name is on the poster, and because of what I do audiences will want to judge me harshly, but that's my job and I've never shied away from it.
"I'm loving the show, loving Curve which not only has wonderful rehearsal rooms but we have visiting companies in which means the casts can mix and it's a really creative environment."
So how does the live Sister Act show differ from the film, apart from the sensstional score by Oscar-winner Alan Menken (Little Shop of Horrors, Disney's Aladdin, Beauty and the Beast and The Little Mermaid).
"Well let's say upfront that there's no I Will Follow Him, which was the big number from the end of the film. What we do have is a fantastic score by Alan Menken with an incredible gospel number called Raise My Voice, which is a real showstopper. Music is always my primary concern and this show is a joy and a delight. We've had the book tweaked and got the Broadway version which is much better than the one which was in the West End. I know people will expect the film, but Alan is a genius who delivers on every level, and I don't think audiences will be disappointed."
And Ms Burke? She has come to Sister Act straight from the national tour of  The Bodyguard at De Montfort Hall, where she won standing ovations despite appearing to be struggling with understandably exhausted vocals.
"She has a fantastic sense of humour and this part allows her to be much more herself than playing a pop diva," says Craig. "This is about a wannabe diva who comes from the street, she's more ghetto. It's much more up her alley darling," he laughs.
"But it's not just her show. It's a huge ensemble piece and because they're all playing the music too, no-one is ever off stage apart from an occasional costume change. But Alex does play the triangle, and a mini banjo!"
And after Sister Act? What's in store for Craig? "I've been signed for two more years of Strictly, I'm doing panto in Bromley, I'm doing a show in Berlin in October with 70 dancers and costumes by Jean-Paul Gaultier, and a new Neil Diamond show. I might get a holiday in February/March but then there's four Strictly Come Dancing cruises. I love them: I work for two days and then head off to the VIP section and drink Pina Colada and write part three of my autobiography."
And are there more actor-musician shows in the offing? "I did ask Andrew Lloyd Webber to let me do Cats," he laughs, "I thought it would be hilarious. He thought I was serious but then gave me Sunset Boulevard instead! I suppose we could try Starlight Express. Oh god, can you imagine musicians on rollerskates……"
Sister Act, is on at Curve Theatre, Leicester from 30 July to 13 August, 2016. It's also at Birmingham Alexandra Theatre in September, 2016 and Nottingham Theatre Royal in early 2017. Call 0116 242 3595 or visit curveonline.co.uk
See the original article from the Leicester Mercury, July 16, 2016 below.