Grease
Posted on
2nd December 2016
Let's cut to the chase: amid a season of pantomime and festive shows, can the original stage version of a blockbuster cult musical film be a Christmas smash hit? First let's manage expectations for audiences: all the favourite songs are there, just not necessarily in the same order. And there are ones you may not know unless you know the Grease stage show: Freddy My Love, Mooning and Shakin' At The High School Hop to name a few.writes Lizz Brain.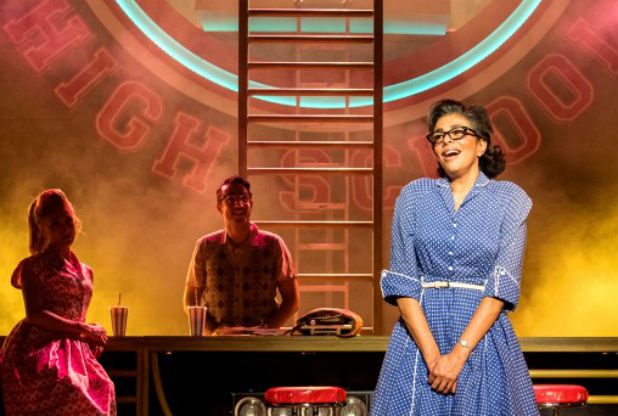 Really devoted fans of the film will know Raining On Prom Night and Those Magic Changes, but here they get the full treatment.
And what treatment. Director Nikolai Foster, choreographer Nick Winston and musical director Neil Macdonald (with Sarah Travis's orchestrations) combine efforts for a Grease which packs plenty of punches in the production number department.
Yes there's the obligatory megamix to send you home singing, but Born To Hand Jive is frantic, frenetic and tight, Greased Lightning updated and sexier, Beauty School Dropout camp and fun.
A well-loved piece like Grease is always tricky to get right. Change it too much and you upset the purists who want to hear every song, every line, every inflection in the way they remember and love it. Don't change it and you are left with different performers offering a copycat production.
Here the balance is about right. It's not perfect: Patrick Harper's Teen Angel fills Beauty School Dropout with modern pop vocal riffs at the expense of the humour of the lyrics; Jessica Paul's Sandy is vocally inconsistent and there's not much chemistry between her and Danny, and You're The One That I Want lacks overall fizz.
But Dex Lee's Danny offers gloriously confused teen machismo and great moves, Djalenga Scott's Rizzo is feisty, vulnerable and has a belter of a voice, Nathanael Landskroner's Doody delivers a gorgeous Those Magic Changes.
Fabulous comedy too from the endearing duo of Natalie Woods' Jan and Sam Murphy's Roger, and the hilarious comic genius of Darren Bennett whose Vince Fontaine is a scene-stealer.
What is fantastic is seeing the show performed by such a young company (the film cast were way past their High School years!), who work together with energy and commitment throughout.
As for the first question? The opening night audience were on their feet, and this critic will be singing Born To Hand Jive long into the festive season (makes a change from carols anyway). Merry Greasemas!
Grease the Musical, is on at Curve Theatre, Leicester until 21 January, 2017. Call 0116 242 3595 or visit curveonline.co.uk