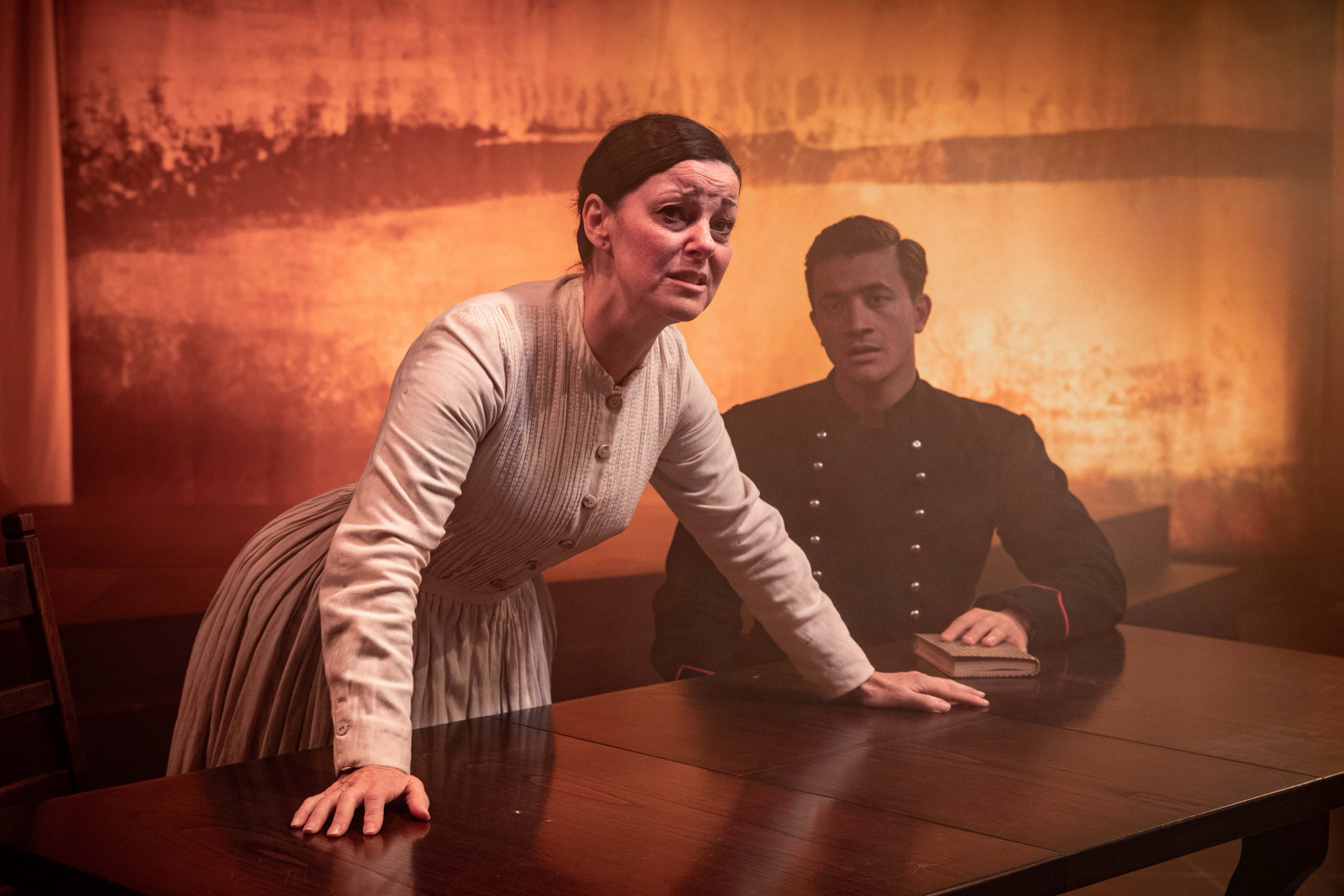 So much happiness, so much love…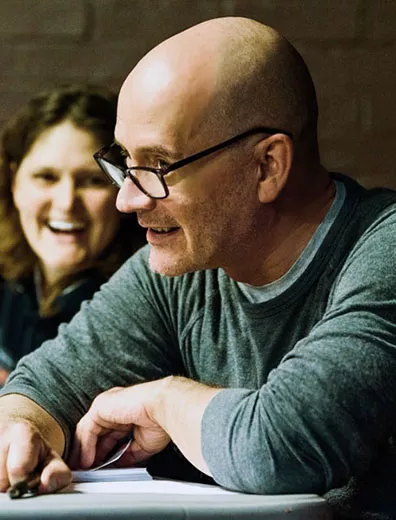 It was 2010 when Michael Strassen took his first major step from performer to director.
Now he's ticking a lifetime achievement box, opening Sondheim's Passion in Manchester.
I admit to something of a personal involvement here: I first saw Strassen on stage at Leicester Haymarket in 1992, and wholly attribute my own passion for Sondheim's work to he and his director then, Paul Kerryson.
A mutual friendship grew, but it was in 2006 when I had moved to London that another actor friend told me he needed a director for a production of Company to take to Edinburgh. I suggested Strassen.
The rest, as they say, is history…but we caught up recently to discuss his latest project.
First things first – when did you first become aware of Sondheim's work – was it a particular song which led you to a show…. and how did that grow/develop?
My mother sat me down to watch West Side Story when I was about 14. I remember her telling me how clever the opening credit designs were regarding the graphics. So, this was my "in" as it were. I now knew the name. Then when at Guildford training we had a Sondheim week in 'presentation' and I was hooked. "Not While I'm Around" was my choice and of course it talked to me as a young man. I ended up playing Toby in one of our mounted final year shows. By this time, I had realised his shows were three-dimensional dreams to be a part of. I'll never forget the thrill of being so inexperienced and just giving myself to the show and it soaking into my DNA. An experience of Biblical proportions.
And then you worked with the man himself? Tell us about that first time…
It was at Oxford University during his Professorship. We mounted several new works but my main memory is his words on Into The Woods, which had just opened on Broadway and the metaphor of the Giant and blame. We were mid-AIDS pandemic. It just resonated. I began to see him as he truly was, a voice of the human condition.
So it made sense that the first show you directed was Company, firstly in Edinburgh and then at the Union in Southwark?
I'd directed at the Royal Festival Hall with Ruthie performing, and a Philip Ridley play, but I had to tackle a Sondheim, and you introduced me to the production company based on our numerous Sondheim conversations and many 'listening' sessions. I remember being desperate for the gig and telling the producer I'd get him a five-star in The Scotsman. I did. I could taste the blood in my mouth. Ultimately, I want to direct everything he has written.
Then Assassins, with a black President (the wonderful late Nolan Frederick), which won the Best Off-West End Musical award, and then Pacific Overtures at the Union?
I think I was the first person to cast the Balladeer as Black. Obama had just become President and I wanted to use that as a muse to tell the story. It breaks my heart that Nolan is no longer with us.
My choice to direct Pacific Overtures was simply because in my mind it was the hardest of them all. It fell off the page. At its core is a story of two friends, two mindsets. The reviews were so kind. I have a deep affection for it.
And now Passion. Why this particular show?
I lost someone who adored it. I can't expand but I know the meaning in Fosca's words that to die loved is to have lived. I can't expand more, sorry, it's too personal but those who know, know.
You've said you're stripping it back….. in what way, and why?
Because it has been done so well expanded I guess and my brand is brutal humanity. Simplicity. Passion is about a sick woman not a monster. I do think our attitudes to self-harm, illness and mental health have shifted in the past 25 years too. We have more understanding. Giorgio is unlocked by two women and becomes present to a world he's previously been closed to. I've directed into it very distinct moments so we see his progress to being present to love.
This isn't the first time you've worked with Ruthie Henshall on stage, a friend offstage too. How is it directing someone you know well as a friend as well as an actress?
It's life affirming. We know each other's cogs. I can direct her with a look. We know with this show we are putting many souls to rest we have known. It sounds heavy but it is like oxygen to us. A joy.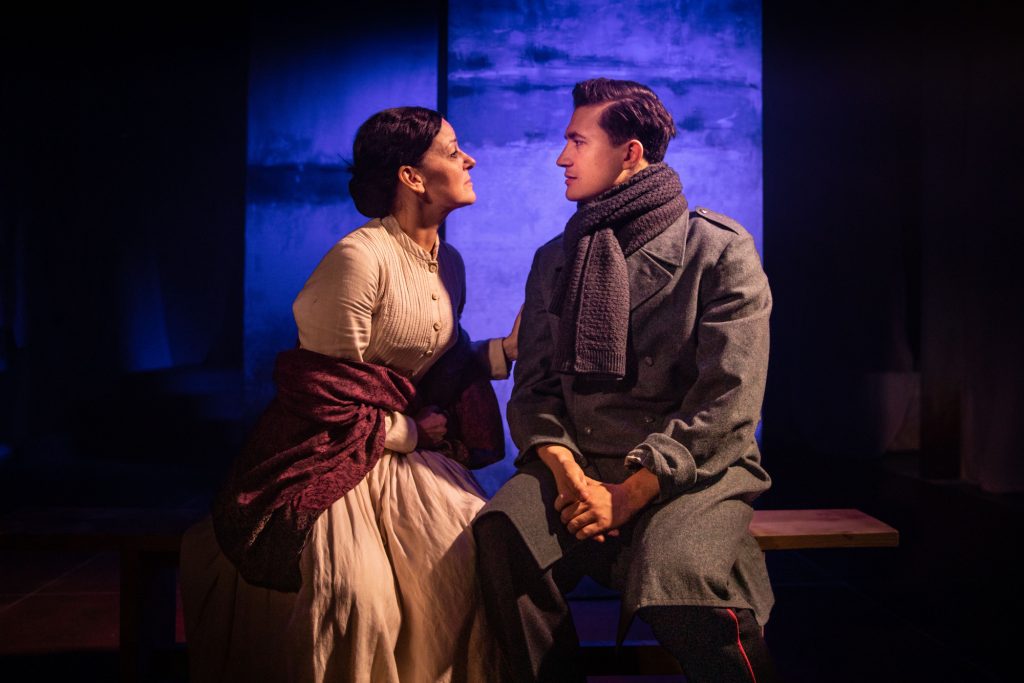 Fosca is a difficult woman; lonely, ill, broken in many ways, but fiercely passionate and obsessive. Even if we sympathise with her, she's fairly unlikeable……..how do you see her?
She is a woman betrayed by her arranged partner who brought infection to the marital bed. A woman stripped of her wealth. Abandoned. I think she deserves to be 'difficult'. She is accurately poetic and feels and sees life like an open lens.
The original book has a very different ending to the musical in terms of emotion – do you feel it's a happy ending now?
I loved the novel and have drawn from it heavily. I think the ending we have is honest to Sondheim's vision and interpretation of the emotions in play.
Is it true that you thanked Sondheim for "giving me something to work on for the rest of my life" and he replied: "That'll do"?
It was at the Follies first preview in the bar. I felt there can't be that many of these meetings left so at the end of our conversation I said just that. He winked and said: "That will do won't it?!" I said: "Yes". I think he got what was unsaid. He's changed my life. Seen me through so much. Don't get me started on Sunday in the Park. But I'm not a Sondheim romantic. Quite the opposite.
So apart from working your way through the entire Sondheim repertoire, what would be your choice to be next?
Sweeney Todd. That's full circle from my Toby.
Passion by Stephen Sondheim and James Lapine at the Hope Mill Theatre, Manchester, to June 5, 2022. www.hopemilltheatre.co.uk. Produced by Thomas Hopkins, Guy Chapman, Paul Schofield, Ruthie Henshall. Director Michael Strassen.